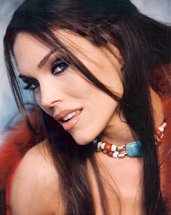 Amy Miller-Rolle (currently as Amy Rolle)
is a Amercian former actress and former model, famous for playing the role as
Trakeena
, the main leading villainess in
Power Rangers: Lost Galaxy
. Before her role on Power Rangers, Amy was a Line Judge on Fox Sports'
Ultimate Fan League
(1998), which she lasted for 3 episodes, in a 1997 episode of
Baywatch,
and had small roles in 9th
Star Trek
film
Insurrection
(also in 1998) and in the Mark Wahlberg/Jennifer Aniston movie
Rock Star
in 2001, where she made her final on-screen appearence. After
Lost Galaxy
ended production, she is currently married to former actor
Reggie Rolle
(the actor who played
Damon Henderson
, the Green Galaxy Ranger) and both currently live in the state of Texas.  However, when it came to the crossover with Power Rangers: Lightspeed Rescue, Reggie appeared but she declined. Her role in the teamup however was replaced with Jennifer Burns.
She has however, made appearences at the second and third PowerMorphicon conventions in 2010 and 2012, with her husband Reggie. The two currently lives in the capital city of Dallas, Texas with their 3 children.
Ad blocker interference detected!
Wikia is a free-to-use site that makes money from advertising. We have a modified experience for viewers using ad blockers

Wikia is not accessible if you've made further modifications. Remove the custom ad blocker rule(s) and the page will load as expected.