This page highlights the differences between Gouki and Will James.
DifferencesEdit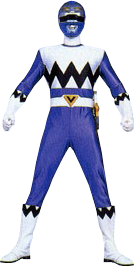 | Gouki | Will James |
| --- | --- |
| Was not second-in-command of the Gingamen. | Will become second-in-command of the Marsh-Verse Galaxy Rangers come the upcoming Fan-Film sequel.  |
| Has appeared in all 50 episodes of Gingaman, including their teamups with the Megarangers and the GoGo-V. | Has appeared in the first Power Rangers: Lost Galaxy Fan Film (2014), while one of his brothers was the Blue Ranger in previous film attempts throughout the Marsh-Verse. Will never was in a teamup with a prior Ranger team because he and the other Marsh-Verse Galaxy Rangers are of a stand-alone alternate dimension.  |
| Returned in Hyakujuu Sentai Gaoranger vs. Super Sentai and teamed up with several Sentai rangers. | Never was part of any reunion specials or tributes within Anthony Marsh, Jr's fan-series of PRLG, even within a Fan Film. He is one of the many characters in Marsh's universe of the Power Rangers franchise that is not associated with any existing Ranger in the franchise.  |
| Strong but shy and slightly nervous. | Strong and brutful when in Ranger form, but unmorphed - his personality in the beginning show/ed that he was arrogant, stubborn and tough-as-nails. His personality later changed to make him show compassion and curiousity to the team.  |
| Pilots GingaRilla, his fellow Starbeast.  | Pilots the Ape Galactabeast/Zord.  |
| Live-Action character | Mount-board puppet character. |
| Is part of the long-running Super Sentai continuity | s of an alternate parallel dimension/continuity devoid of connection to the original Lost Galaxy series of Power Rangers. Marsh's fan-series/films is half-fantasy, half-reality.  |
| Is from the 22nd Super Sentai series, Seijuu Sentai Gingaman | Is from the longest running Fan-Fiction Series based on Saban's Power Rangers Lost Galaxy, and has been in many versions of Anthony Marsh, Jr's Fan-Series incarnationally.  |
| Was played by Teruhide Takahashi | In Marsh's PR fan-series, ala character puppets, he is voiced by Anthony Marsh, Jr  while his celebrity likeness/inspiration is actor Josh Cooke (2012-present). |
| | |
Ad blocker interference detected!
Wikia is a free-to-use site that makes money from advertising. We have a modified experience for viewers using ad blockers

Wikia is not accessible if you've made further modifications. Remove the custom ad blocker rule(s) and the page will load as expected.