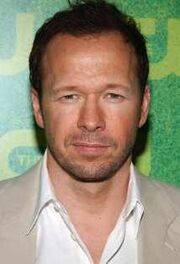 Donald Edmond "Donnie" Wahlberg, Jr.
[1]
(born August 17, 1969) is an American singer, actor and film producer. He is a member of the popular 1980s and 1990s
boy band
New Kids on the Block
.
Wahlberg was born in the Dorchester neighborhood of Boston, Massachusetts, is the eighth of nine children, with older siblings Arthur, Jim, Paul, Robert, Tracey, Michelle, Debbie (died 2003) and younger brother Mark. He also has three half-siblings from his father's first marriage- Donna, Scott and Buddy. His mother, Alma Elaine (née Donnelly), was a bank clerk and nurse's aide, and his father, Donald Edmond Wahlberg, Sr. (died February 14, 2008) was a teamster who worked as a delivery driver; the couple divorced in 1982.[3][4] He is of Swedish, Irish, English, and French Canadian ancestry.
Donnie's work background includes music, feature films, and television. Wahlberg has had featured roles in the Saw films, The Sixth Sense, Dreamcatcher, and Righteous Kill, also appearing in the award-winning World War II miniseries Band of Brothers. From 2002-2003 he starred in the critically acclaimed but short lived crime drama Boomtown. Currently, he is starring in the critically acclaimed drama series Blue Bloods with Tom Selleck and Bridget Moynahan and is an executive producer of the TNT reality television show "Boston's Finest".[2] Wahlberg was nominated for Choice Scream at the 2008 Teen Choice Awards for his work on the Saw films.
More InfoEdit
References
Edit
External links
Edit