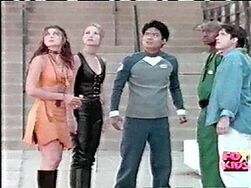 The Rangers race to find the Grunchor monster, who is causing massive earthquakes and destruction on the station. He surfaces at the command of Barbarax, and attacks the Rangers, who destroy him with fire.
In Gingaman, Grunchor (Earth Beast [3]) is Titanisaur (Dytanix )'s second form when Dytanix was previously destroyed in Gingaman episode 42.
Grunchor appeared in the previous episode, " Beware the Mutiny ", which left a cliffhanger to this episode.
Ad blocker interference detected!
Wikia is a free-to-use site that makes money from advertising. We have a modified experience for viewers using ad blockers

Wikia is not accessible if you've made further modifications. Remove the custom ad blocker rule(s) and the page will load as expected.