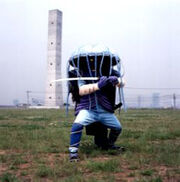 Hyoudogasa
(氷度笠 Hyōdogasa

?

, 20)
 is a 
jellyfish
-like Majin who is deployed by Budo to put humans to sleep by throwing his extra 
Kasa
 and releasing thousands of ice stingers down onto them in his "Dream Goal" ability in hopes that the Lights of Ginga manifest.
Also attacks with his "Blade Cruel Cut". Though he placed The Gingamen under his spell, only Ryouma is unaffected due to his flame ability. Having until sunset to wake everyone up, Ryouma engages Hyoudogasa, who was duped by Illess's illusion, on horse-back before defeating him in a duel with unexpected help from Bull Black.
After drinking Barban-X, Hyoudogasa battles Gingaleon and the Heavy-Knight before being destroyed by Bull Taurus .
Voice ActorEdit