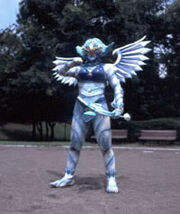 Ice Angel
shot Commander Stanton when he was with his daughter at a park in the colony. The Rangers came in and fought her. Her arrow caused Stanton to lack emotion and he was under her spell. Ice Angel forxed the Galaxy Megazord and was later destroyed by it.
Voice Actor
Edit
Barbara Goodson (who was previously Rita Repulsa's voice in Mighty Morphin Power Rangers)
Ad blocker interference detected!
Wikia is a free-to-use site that makes money from advertising. We have a modified experience for viewers using ad blockers

Wikia is not accessible if you've made further modifications. Remove the custom ad blocker rule(s) and the page will load as expected.