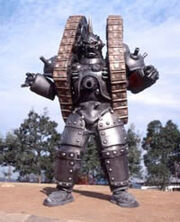 Ironite
was one of Deviot's guards as he disguised himself as Runtus, who had possession of the Piink Quasar Saber. Deviot had Ironite tell Trakeena of the saber's location on Onyx. On the planet Kirassa, Trakeena, Villamax, and Ironite confronted the Rangers and were joined by Deviot and Spikaka. He grew gaint and repeatedly ram the Galaxy Megazord and was destroyed by it.
Voice Actor
Edit
Ironite is the second monster to be based on a tank. First being Tankenstein in the Power Rangers in Space episode "A Line in the Sand".
Dangusu means "Tanks" in Japanese.