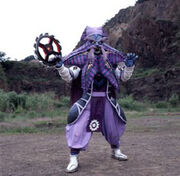 Kugutsudayuu 
(傀儡太夫 Kugutsudayū

?

, 17)
 is a 
starfish
-like, 
engineer
 Majin who wields a cog-like chakram.
He is deployed by Budo to use his explosive android puppets to infiltrate skyscrapers and self destruct to destroy the buildings to force the Galaxy Lights out. When Yuta finds his base of operations, he leads Ryouma there while the others battle Budo as they intercept the dolls. After the machine that creates his dolls is destroyed while being mortally wounded by Ginga Red, Kugutsudayuu sics his creations on Ryouma as he staggers to Budo's side to beg for forgiveness before drinking Barba-X.
He is killed by a combo attack by GingaVerick , Gingat , Gingarilla , and Gingalcon .
Voice Actor

Edit
Ad blocker interference detected!
Wikia is a free-to-use site that makes money from advertising. We have a modified experience for viewers using ad blockers

Wikia is not accessible if you've made further modifications. Remove the custom ad blocker rule(s) and the page will load as expected.