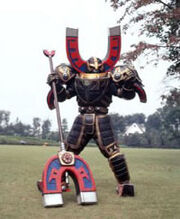 Magnetox
drained energy from the Stingwingers. He had a staff that he could turn the dial and he drained Leo's powers. He then fried Maya and Kai's morphers and then took Damon and Mike's powers. Luckily, Leo and Karone had managed to get the new power and Leo destroyed Magnetox as the Red Armored Power Ranger.
Voice Actor
Edit
Ad blocker interference detected!
Wikia is a free-to-use site that makes money from advertising. We have a modified experience for viewers using ad blockers

Wikia is not accessible if you've made further modifications. Remove the custom ad blocker rule(s) and the page will load as expected.