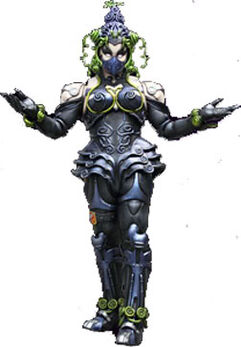 Mortalia
is one of the villains introduced in a newly established fan-series of
Anthony Marsh, Jr
's Fan-Fiction Series of
Power Rangers: Lost Galaxy
.
Character HistoryEdit
Power Rangers: Lost Galaxy (2014 Fan-Film)Edit
Mortalia is Lord Metarex 's personal attendant and the marshal of The Zeon Empire who is the first high spec Matroid built by her master to serve him.
Voice ActorEdit
Mortalia shares the same costume and character traits as Metal Alice from Tensou Sentai Goseiger and Power Rangers: Megaforce.
Marsh based the character as a homage to Morticia Addams from The Addams Family
Mortalia serves as the replacement of the Lost Galaxy monster villain Hexuba in the Fan-Film.
Ad blocker interference detected!
Wikia is a free-to-use site that makes money from advertising. We have a modified experience for viewers using ad blockers

Wikia is not accessible if you've made further modifications. Remove the custom ad blocker rule(s) and the page will load as expected.