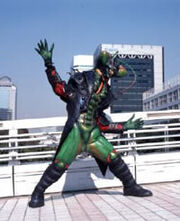 Motor Mantis
was brought in by Deviot and he truned Kendrix and Maya into thropies and challenged Leo to a race. He cheeted to win and Leo's cycle became the Red Capsular Cycle. Motor Mantis was destroyed by the Galaxy Megazord.
Voice Actor
Edit
Motor Mantis' counterpart came from an eariler Gingaman episode.
Motor Mantis (Mandigaa) was one of Villamax (Sambash)'s monsters in Gingaman.