Article Destinations:

On September 1, 2013 It has been confirmed that most of the score will be done by Marsh's music composition studio, The Marsh Bros. Orchestra will do the score along with some music cojointly done by his brother's music artist name Degadothica .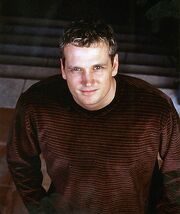 On September 10, 2013, Marsh confirmed that composer
John Ottman
will do some of the score, while incorperating a part of the iconic music cue of Danny Elfman's
Spider-Man
theme - from Sam Raimi's original
Spider-Man
film trilogy  (although Spider-Man and Power Rangers have nothing in common) - in some parts of the score that Marsh himself has used in his past unmade
Power Rangers: Lost Galaxy
Fan-Film projects (2002-2011), which Marsh have attempted of doing without Sony and Raimi (or any of the following [former film] series' composers)'s permission. This will mark Ottman's second film in the Superhero genre in incorperate a theme of another superhero by a previously established composer. First being in
Superman Returns
with the reuse of John Williams' iconic "Superman March" theme.
Noam Kaniel, the current series composer of the Power Rangers fanchise (that started with Samurai) will supervise and compose less additional music. 
Parts  of the Power Rangers: Lost Galaxy theme by Jeremy Sweet (mainly the instrumental version) will be cued [unofficially] in some portions of the score. 
A few tracks of the score have been released on Marsh's MySpace  page on November 19, 2013. 
Ad blocker interference detected!
Wikia is a free-to-use site that makes money from advertising. We have a modified experience for viewers using ad blockers

Wikia is not accessible if you've made further modifications. Remove the custom ad blocker rule(s) and the page will load as expected.