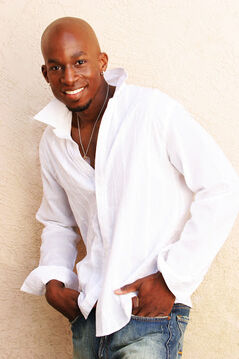 Reggie Rolle
(b. July 4, 1976) is a African-American actor, best known for his role of
Damon Henderson
, the Green Galaxy Ranger in
Power Rangers: Lost Galaxy
. After production on Lost Galaxy ended, Reggie married fellow-costar
Amy Miller
-Rolle, the actress who played the series' villainess
Trakeena
. In the crossover with Power Rangers: Lightspeed Rescue, Reggie did appear but his wife didn't.
Rolle is confirmed to return, along with other veteran Ranger actors (including Danny Slavin and Melody Perkins ) in Power Rangers: Super Megaforce, repraising his role as Damon.
Ad blocker interference detected!
Wikia is a free-to-use site that makes money from advertising. We have a modified experience for viewers using ad blockers

Wikia is not accessible if you've made further modifications. Remove the custom ad blocker rule(s) and the page will load as expected.