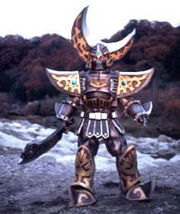 As the five Rangers fought Swabbies in Hexuba's nightmare world which apparently affected its participants in the real world, Hexuba sent in a monster named
Nightmare
. Nightmare was formidable and was destroyed by the Galaxy Megazord.
Voice Actor
Edit
Walter E. Jones (who is best known for his role of Zack Taylor/Black Ranger 1 in the first and second seasons of Mighty Morphin Power Rangers)
The Nightmare Monster is the final regular monster the Rangers have fought on foot and during the Megazord battle against him.
Ad blocker interference detected!
Wikia is a free-to-use site that makes money from advertising. We have a modified experience for viewers using ad blockers

Wikia is not accessible if you've made further modifications. Remove the custom ad blocker rule(s) and the page will load as expected.