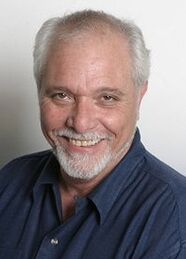 Thomas Halperin "Tom" Wyner
 (born June 16, 1947) is an English-born voice actor, producer, director, and writer.
Arc the Lad- Chongara
Armitage: Dual Matrix - Colonel Strings
Around the World with Willy Fog - Inspector Dix, Transfer, Sullivan
Attack of the Super Monsters - Narrator
Cowboy Bebop - Ted Bower/Teddy Bommer
Daigunder - Ginsan
Digimon: Digital Monsters - Devimon (Season One), Narrator, Kimeramon, MarineDevimon (Season Two), Chatsuramon, Devidramon (Season Three), Volcamon (Season 4), Koh, Chatsuramon, Additional Voices (Season 6)
Dinozaurs - Dino Brachio, Dino Toro, Drago Brachio
Dogtanian and the Three Muskehounds - Narrator, Duke of Buckingham
Flint the Time Detective - Dark Lord
Fushigi Yûgi... Tokaki (Old)
Ghost in the Shell: Stand Alone Complex - Interior Minister, Minister of Home Affairs
Gungrave - Harry MacDowel (Old)
Gankutsuou - Gerard de Villefort
Heat Guy J - Marius Aurora
Kaze no Yojimbo - Tanakura
Lensman - Lord Helmuth
Mon Colle Knights - Redda
New Getter Robo - Professor Saotome
Noozles - Additional Voices
Outlaw Star - Lord Hazanko
Robotech - Jonathan Wolfe
Rurouni Kenshin - Han'nya, Akamatsu Arundo
Samurai Champloo - Ginsa Momochi
Shinzo - Caris, Lanancuras
Street Fighter II V - M. Bison (Animaze Dub)
Stitch! - Evile (Experiment 627)
Teknoman - Pegas/Teknobot, Narrator
The Secret of Blue Water (original dub) - Sanson
The Twelve Kingdoms - Shokou
Transformers: Robots in Disguise - Grimlock
Vampire Hunter D - Mayor, Shopkeeper
Vandread - Ozeki Kyunmel
Witch Hunter Robin - Father Juliano Colegui
Wolf's Rain - Quent Yaiden
Wowser - Professor Dingy
Yu-Gi-Oh! Capsule Monsters - Dark Magician
Zillion (anime) - Narrator
Miscellaneous crew[edit]Edit
Ad blocker interference detected!
Wikia is a free-to-use site that makes money from advertising. We have a modified experience for viewers using ad blockers

Wikia is not accessible if you've made further modifications. Remove the custom ad blocker rule(s) and the page will load as expected.