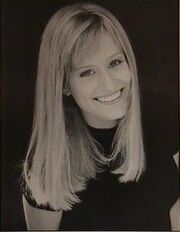 Valerie Vernon
(born October 5, 1974) is an American former actress who played
Kendrix Morgan
, in
Power Rangers: Lost Galaxy
(1999). She was born in Los Angeles, California and still lives somewhere in California.
Power Rangers: Time Force (2001) - voice (1 Episode: "Lovestruck Rangers")
Power Rangers: Lightspeed Rescue  (2000) (2 episodes: "Trakeena's Revenge", parts 1 and 2)
Power Rangers: Lost Galaxy (1999) - cast regular
Archive FootageEdit
Has left acting since as of 2005 and is now running a interior design company, with a partner, called KV Interior Design.
Her character was the only Ranger to be killed off. The reason being was that Vernon was diagnosed with leukemia and had to leave the series to undergo treatment. The treatments were fortunately successful, and Valerie is now leukemia-free. After recovering, the character was resurrected at the end of the season, and she reprised her role for a guest spot during the show's next incarnation the following season.
Ad blocker interference detected!
Wikia is a free-to-use site that makes money from advertising. We have a modified experience for viewers using ad blockers

Wikia is not accessible if you've made further modifications. Remove the custom ad blocker rule(s) and the page will load as expected.