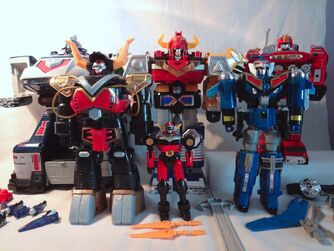 Megazords confirmed to appear in
Power Rangers Lost Galaxy: The Rise of Trakeena
 and
Power Rangers Lost Galaxy: The Wrath of Trakeena
.
In the sequel, the Rangers will continue piloting their Galactazords, following the reintroductions of the Centaurus Megazord, Stratoforce Megazord and the Zenith Carrierzord.
Zord System
Rangers 
Galaxy Megazord 
Defender Torozord 
Stratoforce Megazord 
Centaurus Megazord 
Zenith Carrierzord 
No one pilots. 
Villains 
​Deviot
Red Pteradon DeviZord
​Neo-Spino DeviZord
Gallery
Notes
Deviot's evil Zords are the Toy versions of the Limited Edition Ptera and Spino Charge Megazords from Power Rangers: Dino Supercharge's toy line by Bandai of America.  
Ad blocker interference detected!
Wikia is a free-to-use site that makes money from advertising. We have a modified experience for viewers using ad blockers

Wikia is not accessible if you've made further modifications. Remove the custom ad blocker rule(s) and the page will load as expected.